Thursday, November 22, 2012
Tuesday, September 6, 2011
DVDVideoSoft to Launch Renewed Free 3GP Video Converter with Extended List of Supported Formats
DVDVideoSoft is launching Free 3GP Video Converter, a free and sincere application for conversion among plenty video formats.
(PRWEB) August 23rd, 2011 – As long time ago requested by users, DVDVideoSoft has finally prepared release of the program which features conversion among all popular video formats.
Free 3GP Video Converter is a well-known application developed by DVDVideoSoft especially for users who operate different formats. Now the program supports conversion of all popular video formats such as *.avi, *.divx, *.mpg, *.mpeg, *.mp4, *.wmv, *.mov, *.mkv and plenty others (in total 40 formats). The same formats are received as output ones.
All a user needs to do is to browse for desired files of any video format, then choose output format and desired output options and start conversion. It is possible to convert as many files at a time as desired.
Advanced Preset Editor customizes video and audio settings thus making it possible to create a video with required quality depending where the user is going to playback it.
The company's representative, Alex Wang: "Our users have been asking for a long time to develop all-in-one converter and finally we integrated all formats in one program and now we release such universal program: Free 3GP Video Converter. Despite the wide functionality, the program is same easy to use as all other applications by DVDVideoSoft."
Free 3GP Video Converter is included in Free Studio which bundles 43 free applications for easy audio/video processing. Free Studio also features updates in other widely popular applications: all downloading programs (high-speed download from YouTube is enabled), burning software (new engines are integrated) and Free YouTube Uploader.
All applications are available for direct download from the company's website www.dvdvideosoft.com.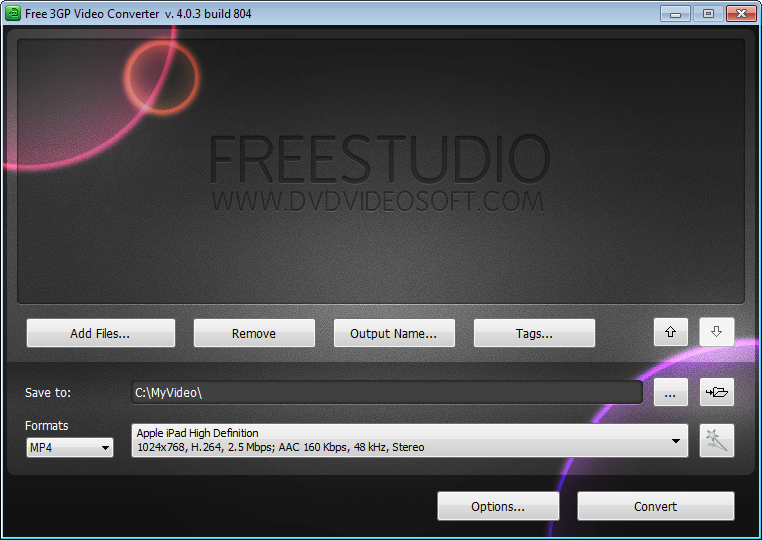 Tuesday, August 30, 2011
We have decided to grant free activation codes for Rocket Subscription to everybody who has donated. In the coming month you will receive e-mails containing activation code to the e-mail addresses which you introduced when making a donation.
Thanks to everybody for using our software and supporting its development. We will keep our programs free for you!
Get Free 3GP Video Converter which now features conversion among plenty formats: *.avi, *.ivf, *.div, *.divx, *.ogv, *.mpg, *.mpeg, *.mpe, *.mp4, *.m4v, *.wmv, *.asf, *.mov, *.qt, *.ts, *.mts, *.m2t, *.m2ts, *.mod, *.tod, *.3gp2, *.3gpp, *.3gp, *.3g2, *.dvr-ms, *.vro, *.flv, *.amv, *.rm, *.rmm, *.rv, *.rmvb, *.mkv.
The program has been updated and now has a new interface and has become more stable.
Thursday, June 9, 2011
Free YouTube Download 3.0.0
Free YouTube Download downloads all possible YouTube videos to your computer:
- a single YouTube video;
- complete YouTube playlists and show lists;
- all video from YouTube charts;
- all video responses to a YouTube video;
- all videos of a selected YouTube user or a channel;
- all video from the user favorites.
Discover all new features of re-designed Free YouTube Download:
- add URLs and set video quality while downloading;
- save your downloading history and in case you lost some videos search them by title;
- detect the type of the video stored on YouTube and download the exact quality that you see there;
- check the YouTube thumbnails in the program interface;
- download videos which require YouTube authorization via Firefox, Internet Explorer and Google Chrome;
- download Artist's Playlists.
Free YouTube Download contains no spyware or adware. It's clearly free and absolutely safe to install and run.
Friday, January 14, 2011
Free Studio 5.0.3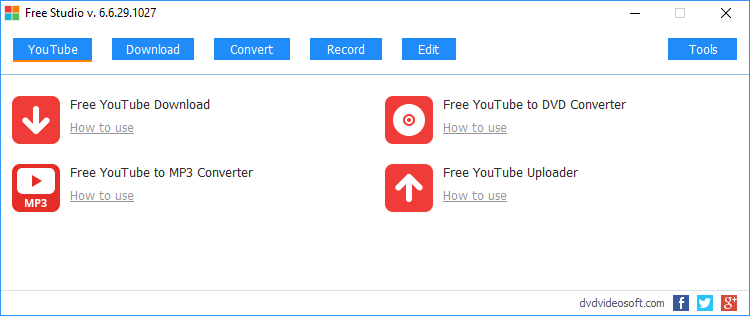 New Free Studio Manager is a completely redesigned all-in-one package for our programs. It contains 8 sections to bundle all free multimedia applications which have been developed by DVDVideoSoft. These sections the following: YouTube, MP3&Audio, CD-DVD-BD, DVD&Video, Photo&Images, Mobiles, Apple Devices, 3D. Thus all the programs are included in the new interface for easy access to any of them.
With this free software you can convert video and audio files between different formats and to iPod, PSP, iPhone, BlackBerry and all popular mobile phones and devices; burn and rip DVDs and audio CDs; upload and download YouTube videos and music to your computer, iPod, PSP, iPhone and BlackBerry; perform basic editing of audio and video files as well as record videos and make snapshots.
Free Studio contains no spyware or adware. It's clearly free and absolutely safe to install and run.